okay, since I posted here last I got new pedals, a couple new cymbals, and I completely reworked my cymbal setup since the last one just wasn't working for me. here we go...

specs:
yamaha birch custom absolute nouveau, sea blue fade
18x22, 8x10, 9x12, 14x14, 16x16
6x14 spaun vented 8 ply maple snare

cymbals:
sabian - 9" radia cup chime, 10" aax splash, 14" aaxplosion crash, 18" aaxplosion crash, 21" hh raw bell dry ride (my baby)
paiste - 14" 2002 sound edge hihats, 18" signature full crash
saluda - 6" pre aged v bell, 16" mist x thin dark crash
istanbul - 9" pre-split traditional splash, 9" agop sultan splash
zildjian - 18" zbt china
wuhan - 12" china

hardware:
tama roadpro boom stands and snare stand
tama iron cobra hihat stand
roc-n-soc nitro throne with backrest
pdp b.o.a. pedals
gibraltar grabber arms (a lot of them)

sticks:
this is a new one for me, but I've found my new favorite sticks - silverfox 5a's. feel of hickory with the durability of oak...exactly what I wanted

heads (all evans):
coated g2s over clear g1s on toms
emad bass
st dry over hazy 300 snare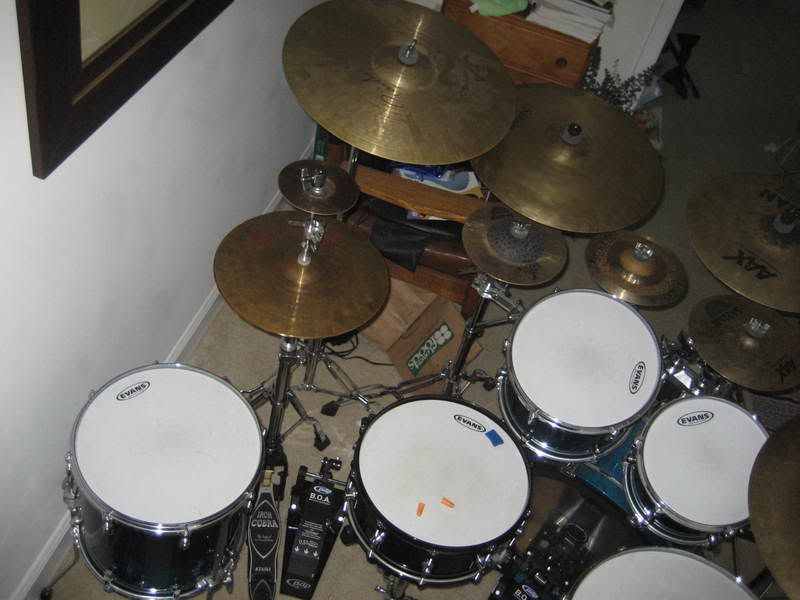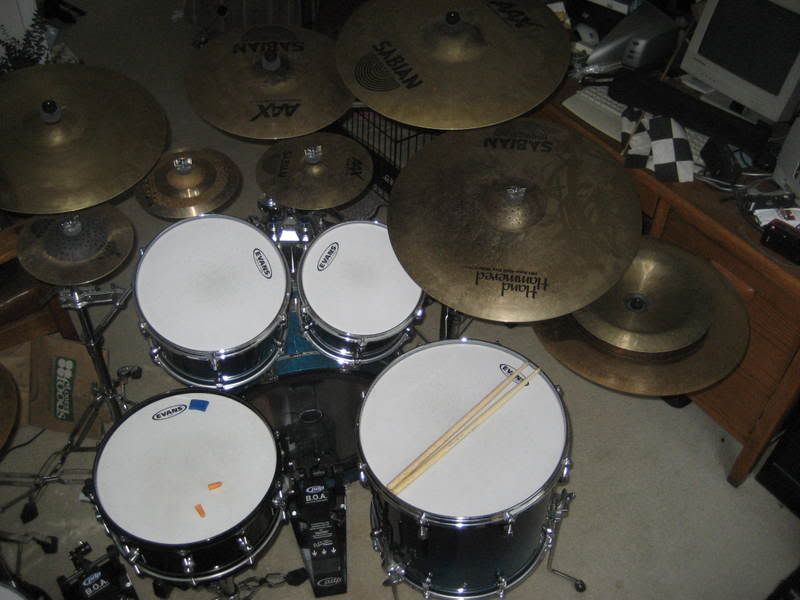 one of the istanbul splashes isn't mounted for 2 reasons. 1 - I'm out of hardware and 2 - the hole is too small to fit anything besides the hihat clutch that the v-bell is on (consequently, the v-bell was mounted there for the same reason but I actually like it there). both are going to be sent out to saluda to have the holes redrilled if jamie will do it.