hey! wats up?...my name is josh newlon...im 17 an ive been playing drumset for around 11 years now an i bought this drumset and everything on it because my parents dont support drumming...they think its a waste of time.....but im new on here an was just wanting 2 show everyone my kit....
-i have a Pacific FS series(which is made by dw) with the ebony red stain
-PDP 700 hardware
-tama iron cobra powerstrokeIII double pedal
-tama iron cobra hi-hat stand
-i use sabian cymbals an nothing else
-14"B8 thinwall crash
-14"B8 hi-hats
-16"B8 thinwall crash
-10"B8 splash
-20"B8 ride
i also just bought 2 chinas online...i havent recieved them in the mail yet tho...when i do ill update my pics....
-15" Sabian AAXtreme china with the brilliant finish
-18" Sabian Pro Sonix china
-now i currently have the evans EC3 coated tom heads...which i highly recomend!! those are not the heads i have on in the pic tho...10" 12" 14"
-on my bass i have an evans co2 batter head and a black evans head with a 6" hole....22"
-my 2 snares both have Remo wheatherking ambassador heads for the batter heads an on the resonance side both have the evans snare side 300 hazy heads....5"x14"PDP snare....and a 3"x13"Ludwig piccalo side snare...
-i play with VicFirth/Vater sticks
ill update the pics when i get my 2 new cymbals....this pic is from like 2 years ago lol....i took it on a camera phone so sorry about the poor quality....ill update soon....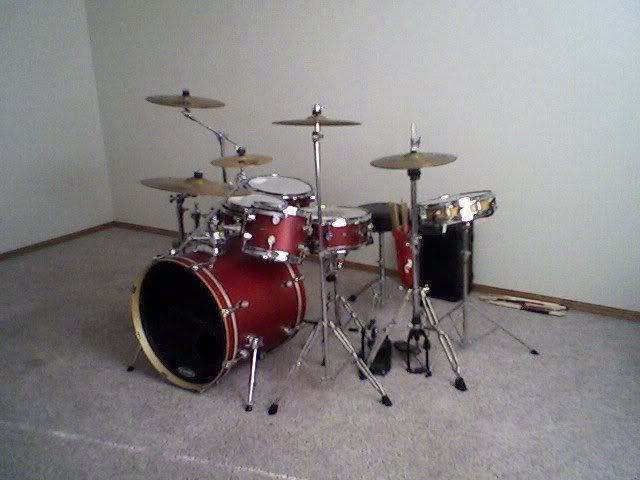 this is how im gona b my new set up after i get the new cymbals within this week!! im stoked an cant wait!!!
this is a pic of one of the new cymbals im waiting on in the mail....
these 2 pics r of the cymbal that i bought on ebay for $60...what a steal!! im so stoked 2 get it!!!
hope u like what ive got....let me know what u think?....