This is my kit, my first upgrade from my very first stencil kit I got about a year ago. Took forever to find a setup that was comfy, and this forum was a huge help with that!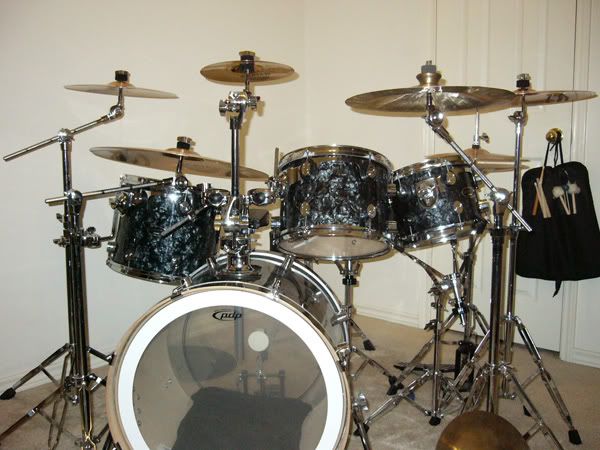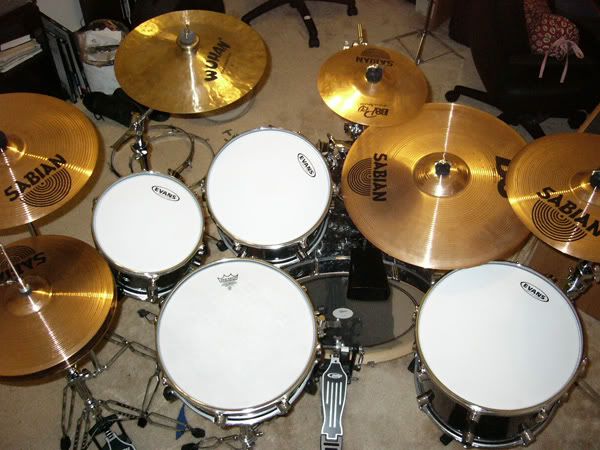 -Evans coated G2 tom batters, G1 clear resos
-Remo clear Powerstroke 3 bass batter w/Falam Slam, stock batter for reso
-Remo coated Emperor snare batter, stock snare side
-PDP 800 hardware
-20" Sabian B8 ride
-14" Sabian B8 thin crash
-16" Sabian B8 thin crash
-14" Sabian B8 hihats
-10" Sabian B8 Pro splash
-16" Wuhan china
-6" LP Black Beauty cowbell w/Gibraltar bass hoop mount
I have a noname super trashy 12" china that I don't have a stand for right now, and just got an Acrolite that needs some cleaning before it's added to the set as well. Nothing new happening for a LONG time, I need to concentrate on playing now!