I believe I've posted pics before, but I just was given this photo, so I figured I'd throw it out. The first shot is dark, but does show the configuration.
This set is a bit excessive for clubs, but helps eccentuate my visual side, and provides a few extra voices without total overkill. Two kicks, two floors, rack in the center, and rack on my left, w/ rotos over that left rack for the tritom effect.
While I am partial to the double pedal, I do like to break my set down to "Bonham style", and certainly is easier to transport.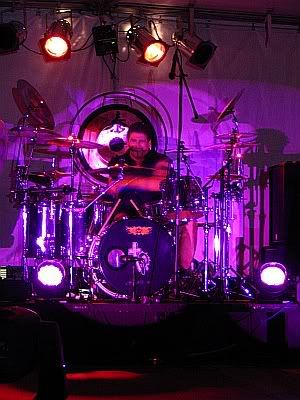 12,13,16,18, snare (alternates brands), and an 18 by 22 kick, maple shells, with a very thin mylar wrap, that I wrapped myself. Primarily Sabian cymbals, with a set of Ziljian 13 in hats (as secondary), and a Ziljian splash. Everything else is Sabian, except the gong (Ebay find :lol: ) I occassionally use rototoms if I feel the need.