Hi everyone I've just joined this forum and I thought I'd introduce myself to everyone. My name is Kevin Howden (although I prefer Kev) and I'm 19 years old and from a city called Lincoln in England.
I've played drums for four and three-quater years and I'm completley self taught and I generally play progressive rock my main influences being; Mike Portnoy of Dream Theater, Gavin Harrison of Porcupine Tree, Nick D'Virgilio of Spock's Beard and Mattew Bellamy of Muse. Mt first taste of Progressive drumming came in the form of Home by Dream Theater around 3 years ago and since then Dream Theater have become my favourite band and Mike Portnoy my biggest influence and inspiration. I feel that I was naturally drawn towards prog because I always listened out for complex drum parts and always had a craving to do stuff that would be pushing the very limits of what I could play and I've done that since I started playing and continue to do that now. In terms of my abilities I have a firm grasp on odd-time signatures and also more recently have been really getting into cross timing or polyrythms and I have developed the ability to play very technically but not overplay and since listening to Gavin Harrison and Nick D'Virgilio have really started to combine feel into what I play and to make sure what I'm doing is more technical than your average rock groove but most importantly compliments the music overall.
My drum set up is petty standard but my cymbal set up is a bit more unorthdox: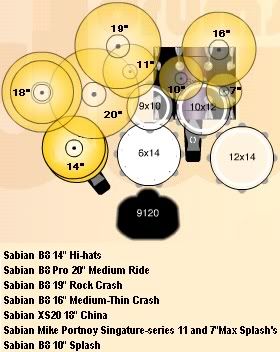 I am a left handed drummer but I'm right footed and also lead across the toms from Left to Right. I play open handed with my Ride cymbal and Hats to the Left very much like Simon Phillips and I like to think that the way I play brings a more interesting approach of how to play a what is essentially a right handed kit. As well as playin drums I have the ability to compose; Electric Guitar, Acoustic Guitar, Bass Guitar, Piano, Strings and Orhestral parts, Synth Lead parts (and a multitude of other keyboards parts) and also vocal harmony's so I guess you can say I'm more of an all round muscian like Neal Morse (who is a major influence in my writing) and I contribute song ideas and full songs to my band as well just playing drums and I think that its very important for drummers to do this I mean why be ignored if you have good ideas? A lot of drummers have told me that they have great songs ideas in their head like a really cool Guitar riffs and stuff but because they can't notate it they can't contribute it to the band their in and nearly all of them wish they could that I've talked to so I'm glad that I've taught myself how to notate pitch because I think I'd go crazy if I couldn't!
Some of my favourite bands/artists are:
- Dream Theater
- Porcupine Tree
- Muse
- Neal Morse
- Transatlantic
- Spock's Beard
- Genesis
- Rush
- Pink Floyd
Anyways I've think I've written more than enough about myself so I'll just close with saying that I'm looking forward to being part of the community.
Hope you're all well,
Kev