hi guys, well its been a while since ive posted pictures of my drums so i thought i would show u my new setup. ENJOY!!
sorry for the poor quality pics, my room is kinda cramped at the moment.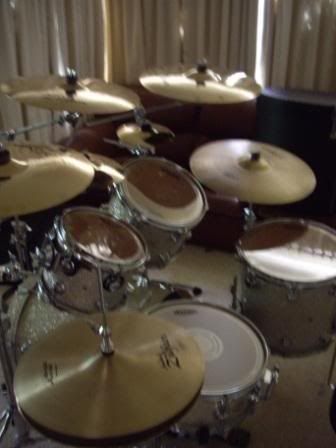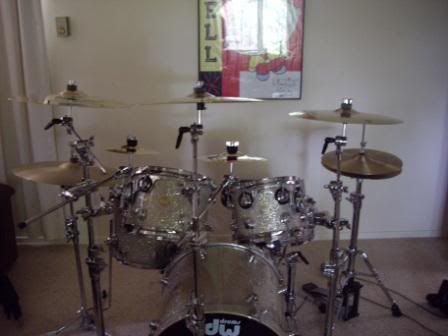 Specs


DW DRUMS in broken glass

Maple
8x10 Rack tom
10x12 rack tom
13x15 floor tom
18x20 bass drum
5.5x14 solid shell maple snare drum


Cymbals:

Zildjian A Custom:

8" A custom splash
10" A custom splash
16" A custom crash
17" A custom crash
18" A custom crash

Zildjian A's:

14" New Beat Hi-Hats
18" Medium Thin Crash (not shown)
18" Medium Crash (not shown)
20" Ride

Hardware: DW

All 9000 Hardware Except for the boom arms that hold the 2 splash cymbals.
I dont know what the seat is but its over 25 years old but it still very comfortable

i am still still waiting on some new zildjian chinas and also an 8" tom that im getting from john good from namm.

just so everyone knows i am only 13 and the reason i have all this stuff is because my dad has several endorsments.