Moderator: Moderators
drummert2k

Moderator

Posts: 1102
Joined: Sat Oct 14, 2006 10:48 am
Location: Northumberland, PA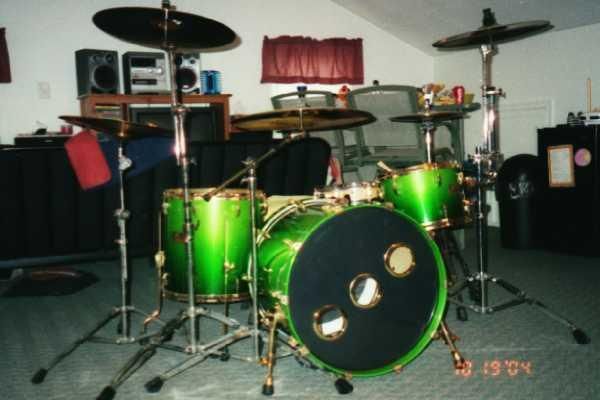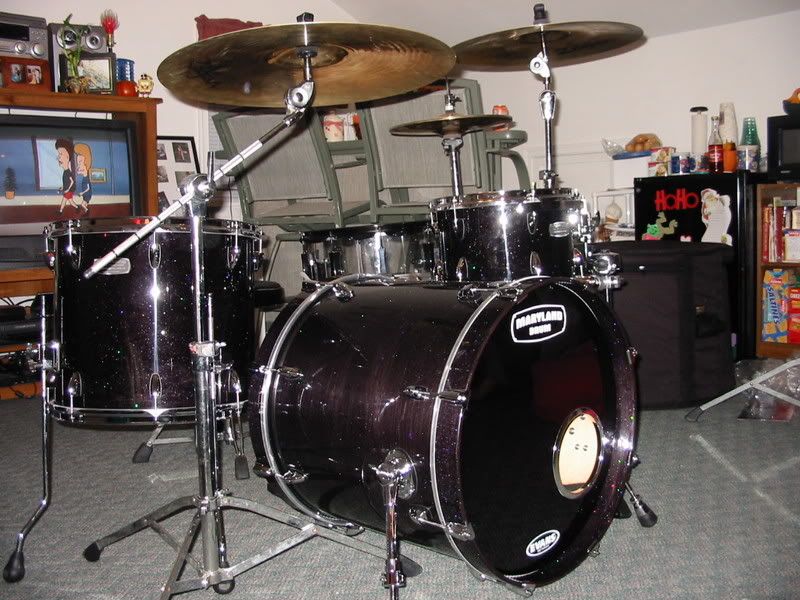 loop

session drummer

Posts: 848
Joined: Sun Jul 30, 2006 7:30 am
I really like your MMX. Emerald fade looks great with gold hardware. Nice setup as well
Please post full specs.
PS - why do you have 3 holz on you kick reso? Doesn't that make your kick sound dead?
dim my eyes if they should compromise
drummert2k

Moderator

Posts: 1102
Joined: Sat Oct 14, 2006 10:48 am
Location: Northumberland, PA
heres the specs on the MMX

Maples shells with reinforcment hoops on the inside, Tom is 12x9, floor tom is 16x16, kick is 22x18. tom heads i use Evans G2s on top and remo clear ambassadors on the bottom. i found that head combination really makes these drums sing. lots of body and warmth without to much overtone. the 3 holes in the bass head is mainly for looks and does completely take any resonance out of the front head but 98% of the shows i play i have to mic the whole kit so with a D6 inside the kick about 4 inches from the batter head, felt beaters, and an aquarian super kick 2 with remos kevlar patch you get plenty of boom and surprisingly quite a bit of tone. i personally like my kick drum nice and punchy so even if i didnt have the holes in it i would still have a pillow in there deadening the front head anyway. hope that answered your questions, if you have anymore feel free to ask.
shanemunzert

drumming adept

Posts: 295
Joined: Fri Mar 30, 2007 2:11 pm
Location: M-town, DE
whats the point of having 3 holes? other then making it sound worse.
devilspain

session drummer

Posts: 588
Joined: Wed Aug 30, 2006 3:49 am
Location: N.Ireland
read the post above you arse! he explains there.
dkmfan

drumming adept

Posts: 64
Joined: Thu May 03, 2007 5:05 pm
Location: Boston
i like the pearl, the three holes makes it stand out, it looks like a good kit to play
shanemunzert

drumming adept

Posts: 295
Joined: Fri Mar 30, 2007 2:11 pm
Location: M-town, DE
seems fair, i just personally like my kick drum to ring. but hey its all preference.
xdoseonex

groove master

Posts: 3889
Joined: Thu Dec 28, 2006 2:07 pm
Location: New York
Last edited by
xdoseonex
on Tue Oct 02, 2007 6:25 pm, edited 1 time in total.
Proud to endorse TRICK Percussion
stump

Moderator

Posts: 2916
Joined: Fri Oct 06, 2006 9:56 am
Location: Columbia, SC
michiganice91

session drummer

Posts: 899
Joined: Tue Apr 03, 2007 3:43 pm
Location: Raleigh, NC
wow dude..the finish on those marylands could be the nicest ive ever seen put on drums..kick ass
drummerfreek55

drumming adept

Posts: 146
Joined: Thu Feb 08, 2007 2:08 pm
Location: PA
I absolutely love the finish on the Pearl, as much as I'm a fan of the larger kits, both sets look amazing. The only finish thats even close to comparison is the general black finish on Rocket Shells.
Devindrummer12

drumming adept

Posts: 331
Joined: Thu Jul 12, 2007 4:33 am
i like the kits a lot, but ,assuming your one cymbal is a ride, please tell me you dont crash the ride.
Oiproks

new

Posts: 5
Joined: Sun Oct 07, 2007 2:40 pm
gold plated hardware rocks!